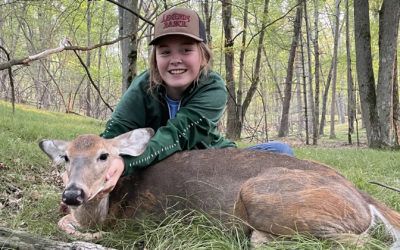 Legends Ranch Youth Doe Hunt: Legends Ranch is one of the premier estate-hunting destinations in the country. Located in Bitely, MI, just 90 minutes north of Grand Rapids, on over 2,000 acres of rolling terrain. For this hunt, you schedule directly with Legends for a date that works for you in late Nov or Dec. Arrive late morning and start with a tour of its expansive Wildlife Center, with over 3,000 mounts from around the world. Then enjoy a sit-down lunch in their rustic-themed lodge. Later, youths' sight in their weapons at the gun range to prepare for the afternoon hunt. You are teamed with a guide from start to finish. After a successful harvest, the Legends staff will show youths how to butcher a deer. Your doe is then quartered and packaged for the trip back home for you to finish the job.
For scheduling and details, contact Tony Grimard of the Legends
Phone: 231-830-4476
Email: tony@wildlifecentermi.org
Value: Absolutely Priceless
. 
.