Trophies
Any animal taken with a bow is a trophy to be remembered and honored, regardless of its book score.
Need a Trophy scored?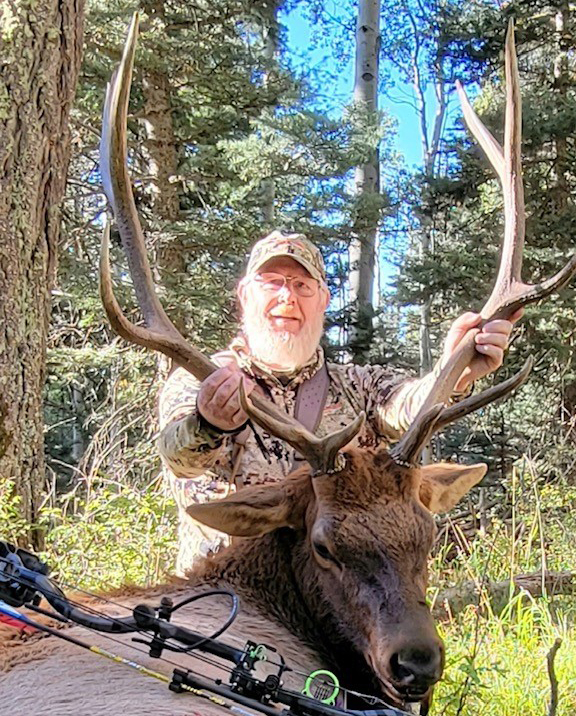 Elk | New Mexico
Scott Overweg
September 18, 2022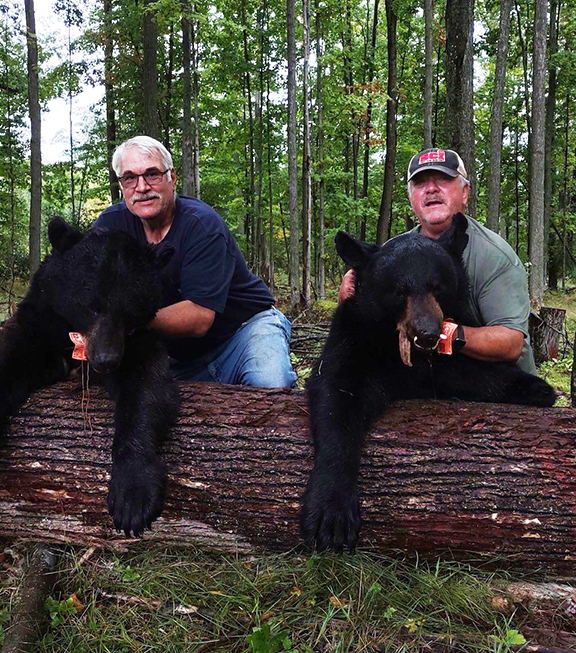 Montmorency County (
Red Oak Unit)
Randall Elzinga & Doug Yff
19-13/16 & 19-14/16 CBM Scores
Sept. 11, 2022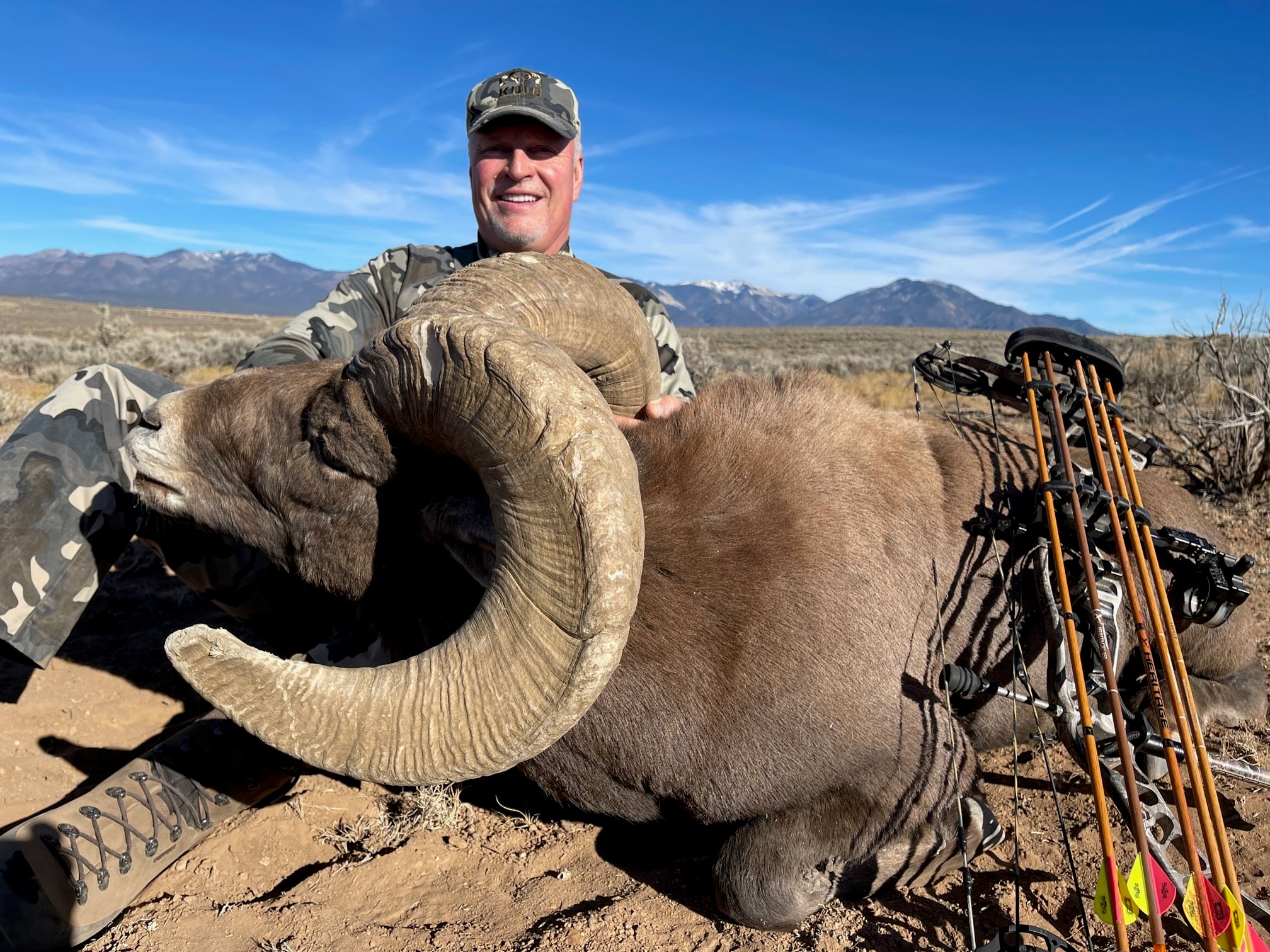 Bighorn Sheep | New Mexico
Bernie Kamps
180-1/8 Pope & Young, Boone & Crockett
Alaskan Yukon Moose | Alaska
Edwin DeYoung
376-2/8 SCI score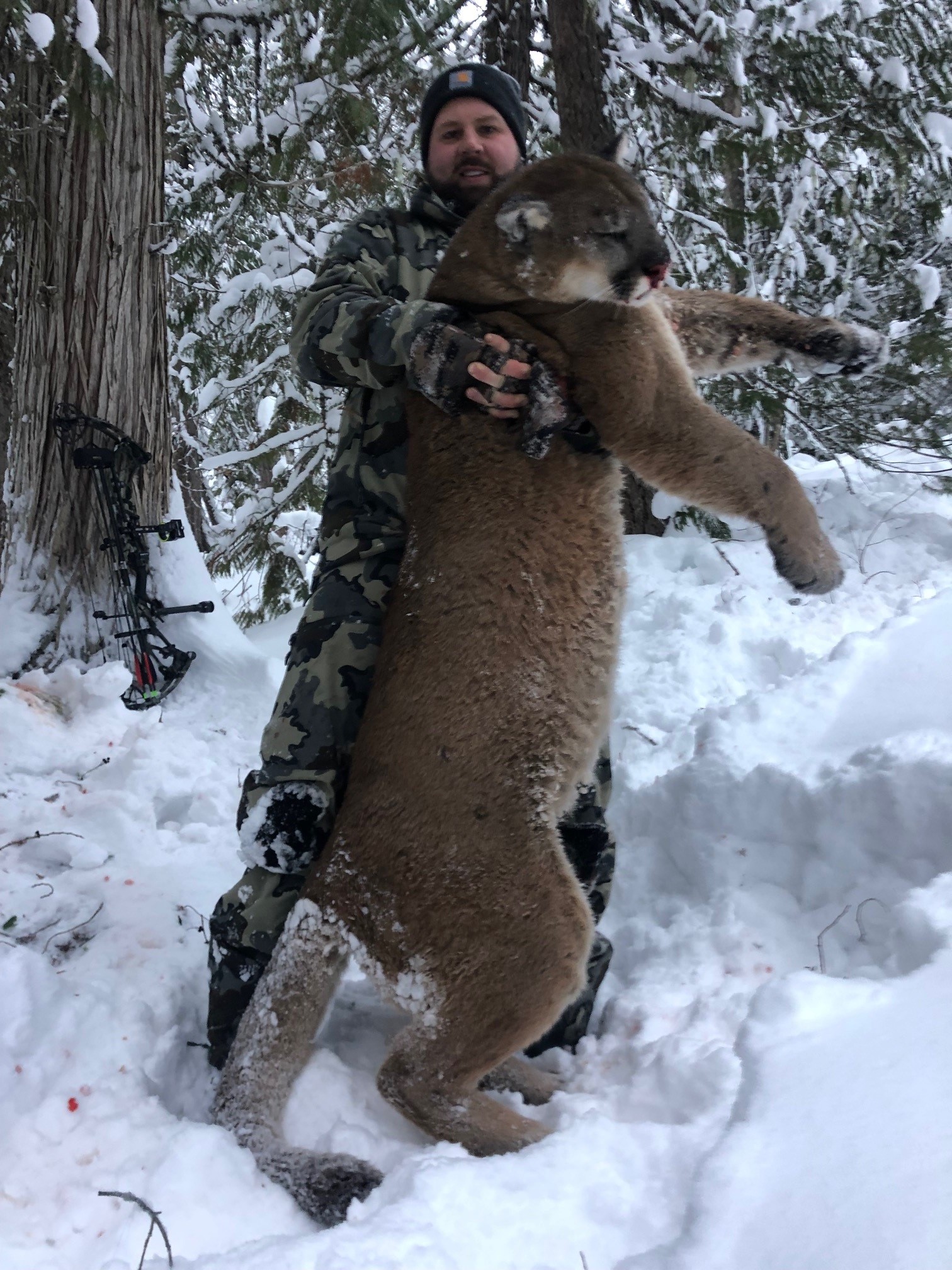 Cougar | Nakusp, British Columbia | Bow and Arrow
Kyle Vanden Bosch
January 2022 with Whatshan Outfitters
Canada Moose | Northern Alberta, Canada
Art Smith
Hunted Northern Alberta, Canada. Used quads a lot, but shot this moose out of a canoe with a 300 Weatherby Mag.
Whitetail Deer | South Dakota | Bow and Arrow
Tony Dolce
November 9, 2020 Perkins County, South Dakota with Fairview Ranch Outfitters. Tony Dolce pictured on left with Guide, Marty Haines
Whitetail Deer | South Dakota | Bow and Arrow
Noah Beers
November 2020 with Fairview Ranch Outfitters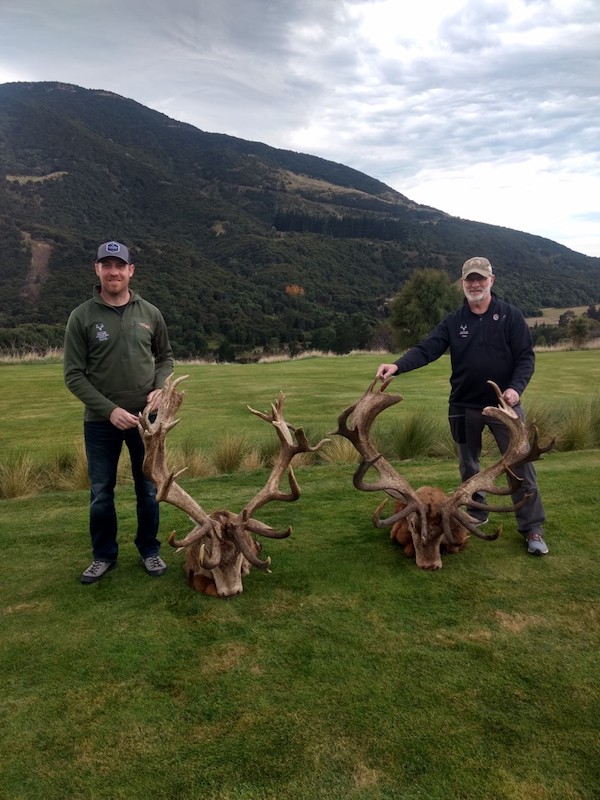 New Zealand Red Stag | South Pacific Safaris
Peter Miedema (right)
August 2019
Mule Deer| Fairview Ranch Outfitters Kari & Lance DeYoung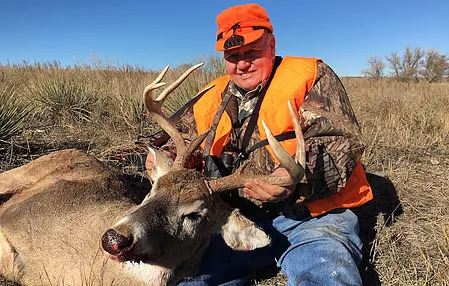 Midwestern White Tailed Deer | Kansas | Winchester Model 70 30-06 Rifle
Joe Merritt
28 minutes into the hunt this beautiful 9 point stopped 135 yards away and I couldn't resist.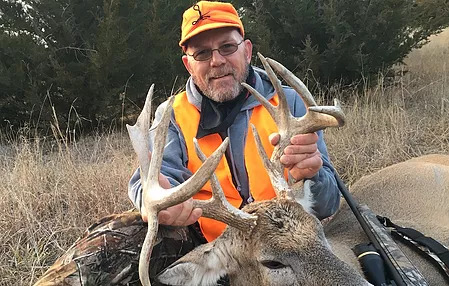 Midwestern White Tailed Deer | Kansas | Remington 700 7 MM Mag Randy Vander Kooy
Five days into the hunt this wonderful drop tine appeared 178 yards away. My trusty 7MM dropped him in his tracks.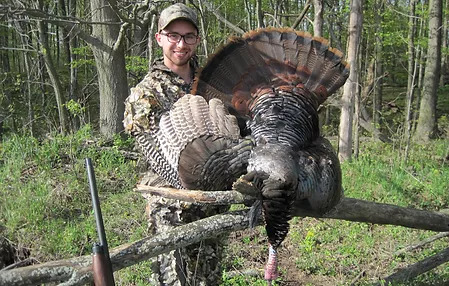 Eastern Turkey | Lowell, MI | 12ga Shotgun Matt Swem
May 3, 2017, was a beautiful sunny day with a cool breeze. Perfect weather for turkey hunting. I was hunting with fellow members Randall Elzinga and Doug Yff. Only a hour and half into the hunt I was able to take this trophy Tom at 12 yards. It was an awesome hunt with the Tom coming in from over 600 yards away and strutting right in front of us. The bird weighed in at 22 lbs, the beard was 10 1/2 inches long and the spurs were 1 1/4 and 1 3/8 inches long. Thanks for the great calling Randall.
Salmon | Michigan
Joe Merritt
4 members of the chapter fished with Chip Klein and had a great day on the water. This trip was donated to our chapter and auctioned at the 2017 Fund Raiser. Thanks for the donation Chip!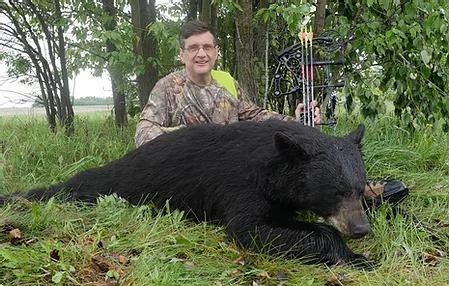 Black Bear | Alberta, Canada
Bob Novosad
Taken May 25, 2016 with South Peace River Outfitters just north of Grand Prairie. A successful 2-bear, 6-day archery hunt arranged through Bowhunting Safari Consultants.
Roosevelts Elk | California | Bow and Arrow
Ed De Young
It was a tough hunt, the rut was over and the bulls were not calling. On the 10th day my guy Tim spotted a huge 7 x 7 elk in a clear-cut. An hour later and a 75 yard shot I had an arrow in the right spot in the pool was mine. Add scores in the top third of Boone and Crockett all time record what a way to finish the super slam 29 animals of North America .
Michigan White Tailed Deer | Michigan | Shotgun
Dan Yff
Taken opening day south of Lowell – November 15, 2020
Whitetail Deer | Montcalm County, MI  | Bow and Arrow
Lance DeYoung
October 2020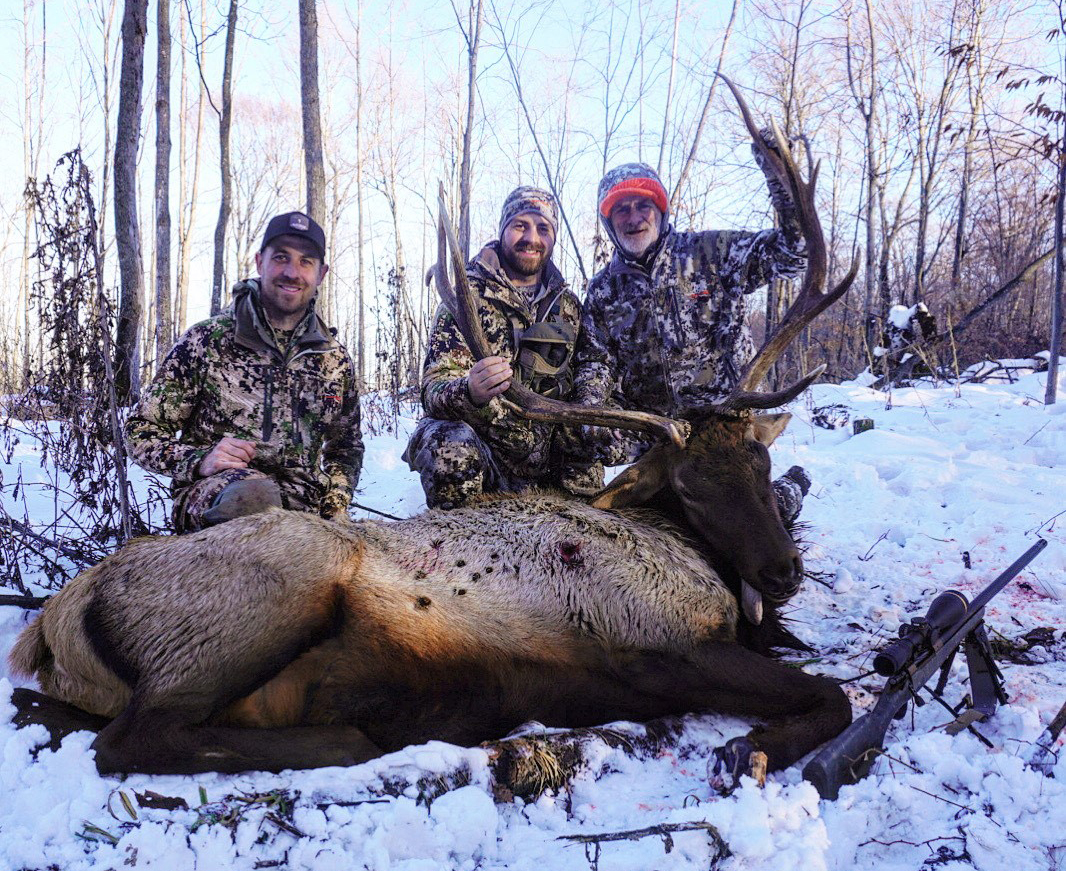 Michigan elk hunt 2021 6×5 bull elk
Pete Miedema
December 2021
share and feature your trophy
Click here to submit a trophy to be featured here
Members of the West Michigan Bowhunters who have a North American or African big game trophy they would like to enter into the record books should contact our volunteer scorers, Joe Merritt, Ed DeYoung and Bob Novosad.
Entry fees vary per club and range from $30 – $40. Your trophy must have dried for at least 60 days at room temperature from when the skull-plate was removed from the animal before measuring for all record books except SCI. Sorry, green scores don't count so please don't ask for them.
Use these links below for more details on each club's record book requirements and minimum scores.
Call or email our scorer to get started.